Published: Sunday, Mar 10, 2013, 15:43 IST
Place: Ramanagara (Karnataka) | Agency: PTI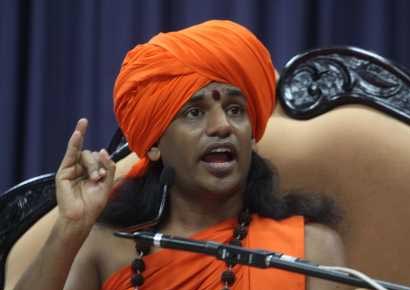 Pro-Kannada activists on Sunday staged a protest in front of controversial self-styled godman Nithyananda's ashram, against his proposed move to take over a mutt in Bagalkot district, police said.
They said 30 activists of Karnataka Navanirmana Vedike protested in front of the ashram, burnt tyres and shouted slogans against Nithyananda and his proposed plan to take over the mutt. All of them were taken into preventive custody.
The activists also demanded that Nithyananda, who is facing various criminal cases, including rape, leave Karnataka. Nithyananda is facing a CID probe into charges of rape and criminal intimidation levelled against him in 2010 after some TV channels telecast purported video footage of the self styled godman in a compromising position with an actress.
The godman is already embroiled in some criminal cases, including rape and physical assault. His ashram was raided in June 2011 by police in the wake of a US-based woman alleging she was sexually abused by him over a five year period.
On October 19 last year, he was sacked by the senior pontiff as his successor of a 1,500-year old Saivaite mutt in Madurai, an appointment which had attracted widespread condemnation from various quarters including the Tamil Nadu Government.
http://www.dnaindia.com/india/report_pro-kannada-activists-protest-nithyananda-plan-to-take-over-mutt_1809502
http://zeenews.india.com/news/karnataka/pro-kannada-activists-protest-nithyanandas-plan-to-take-over-mutt_834319.html
http://english.samaylive.com/regional-news/others-news/676525629/pro-kannada-activists-protest-nithyananda-s-plan-to-take-over-mutt.html
http://news.webindia123.com/news/Articles/India/20130310/2170183.html